The LXer Swag Shop Now Open!
Posted by Scott_Ruecker on Feb 25, 2010 12:13 AM
LXer Linux News; By Scott Ruecker (Phoenix U.S.)
LXer Feature: 24-Feb-2010
Looking for something cool to show your love for LXer that will make you the envy of geeks everywhere? Then check out the new LXer Swag Shop!
Announcing the new LXer Swag Shop on CafePress. On the top bar of the LXer site there is a new link titled "Swag" that will take you to The LXer Swag Shop where you can choose between t-shirts, sweatshirts, hats, stickers and more. For our readers, friends and editors outside the U.S. here is the link for information on shipping internationally.
| Subject | Topic Starter | Replies | Views | Last Post |
| --- | --- | --- | --- | --- |
| hmmm | padrian | 15 | 1,720 | Mar 14, 2010 8:46 PM |
You cannot post until you login.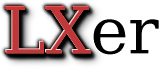 Login