TLWIR 53: Transforming the Broken U.S. Patent System with Free Software-Style Reforms
Posted by acrossad on Jan 21, 2013 12:00 AM
BeginLinux.com; By Rex Djere
In The Linux Week In Review 52, I talked about the need for a Linux Reference System, a GNU/Linux computer guaranteed to work with the latest free software and drivers. In TLWIR 53, I will present some ideas on how to fix the broken U.S. patent system.
I. The Basic Reforms

A. Crowdsource the patent approval process.

The first U.S. patent was issued to inventor Samuel Winslow in 1641 for a new method of making salt [1]. In 1641, modern innovations such as crowdsourcing were still nearly 400 years in the future. Often, the people that review and approve patents have little or no expertise in the subject matter. It is time to open up the patent approval process, and to let everyone have a vote on whether a patent is approved or not. The votes of people who are in the industry related to the patent would hold more weight.
This topic does not have any threads posted yet!
You cannot post until you login.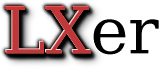 Login