Linuxcounter estimates page updated; LXer mentioned
Posted by hkwint on Apr 9, 2005 5:56 AM
counter.li.org; By Hans Kwint
Maybe you now the Linuxcounter from the good old days. Well, it's still up, at counter.li.org, and it's age is almost 12 years now. It contained an estimates page, which estimated the number of Linux users in the world. The page was made in 2001, and needed an update. So, I decided to do just that, and of course, make a reference to the LXer migration DB.
You can view the new estimates page here. The estimate is a bit conservative however, but we shouldn't be boasting too much.
For people who had an account once: since a lot of inactive users were removed, it is possible your account was removed. Read on to see how you can reactivate.
At the moment 145k users are registered.
If you have an account and want to keep it active, you should login here. If you're account is gone, make a new one!
Other things that happened last years:
-Inactive users were removed. Users who don't login once a year are removed.
There's an internationalization effort going to translate the page to different languages.
They are collecting money for new hardware
Since 2001, there are statistics on running kernel versions, and also on uptimes.
This topic does not have any threads posted yet!
You cannot post until you login.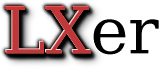 Login