Comment of the Day - November 15, 2005 - What's not to like?
Posted by tadelste on Nov 15, 2005 6:01 PM
LXer.com -Article; By Dinotrac
One of our editors, Don Parris asked : "I'm curious to know what brings you here? If you have recently made us your primary news site, perhaps you'd share your reasons?" Here's an interesting response.

Related to:
Survey: What Brings You to LXer?
I don't really remember how I first find out about lxer...

That Ferris guy may have clued me in, or I might simply have stumbled across it.

Just plain don't remember.

Once I arrived, however, it was like old home week.

I was a relative latecomer to Linux Today. By the time I arrived, it was a hustling, bustling place. Dave and Dwight had already sold it, or were about to. Ferris was editing along with some other good folks. I had the good fortune to meet most of them and share a drink or two. Because of those guys, Times Square will always mean the late, lamented Times Square microbrewery.

I left LT (as a community member) when Paul did, and had no real place to go. I could go and harass the folks on the New York Times forums -- nothing quite so much fun as whacking hopeless liberals upside the head -- but my Linux itch went unscratched.



Lxer -- a real Dave Whitinger production -- has changed that. Some old faces hang around, and lots of interesting new ones. A number of different perspectives, smart people, good writing -- lots of Linux love.

What's not to like?

Plus, I love watching that silly little visitor counter climb. 15,000 now? WooHoo!!!!

This topic does not have any threads posted yet!
You cannot post until you login.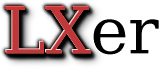 Login