Comment of the Day - November 28, 2005 - What brings you to LXer
Posted by tadelste on Nov 28, 2005 2:49 PM
LXer.com -Article; By Chris
Chris writes: I don't think anyone has heard of the "lxer effect" on a website yet, and that's a good thing. It's hard to be a community when you don't ever recognize anyone due to sheer size.

Related to: Thread: What Brings you to LXer
I like the lack of annoying, flashing ads. I like the frequent updates, the voting, and comments. The choice of articles is very good too. The people here are, for the most part, pretty smart and it's nice to be with others that are capable of thinking rationally about computing. :)

I found out about LXer when it was first started having seen it mentioned somewhere (can't remember where), and that's why I used a first-name only handle--it was still available. Way back then, comments for articles had like 5-6 views. Now it has grown immensely, to where comments have between 40-100 views . I like that the site is responsive, and not overrun by idiots (yet) like SlashDot. Grow too much and it may get unpleasant here too, unfortunately. I don't think anyone has heard of the "lxer effect" on a website yet, and that's a good thing. It's hard to be a community when you don't ever recognize anyone due to sheer size.
You cannot post until you login.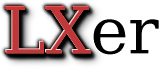 Login