Comment of the Day - February 13, 2006 - BSA Wins OSS Promoters of the Year
Posted by tadelste on Feb 13, 2006 6:43 AM
LXer.com - Article; By number6x
I'd like to officially nominate the BSA for the 'Open Source Promoters of the Year' award. If there is no such award, we should make one up on the spot!

Make sure any management types you come in contact with see this article. Also, please let them know that every open source piece of software like Apache, or Linux, or Perl, or BSD is licensed for their use, and they are allowed to even make copies!

Help the BSA end software piracy, switch to Free and Open Source Software today.

Thank you, thank you BSD! You really do like us!
This topic does not have any threads posted yet!
You cannot post until you login.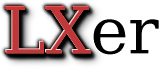 Login