LXers Hog The Barbecue
LXer Feature: 30-Jul-2006
LXers attempted to eat high on the hog Saturday while being mobbed by gorgeous women...
O.k., well, would you believe me if I told you NoDough brought his wife and daughters down to Charlotte with him? NoDough and I met as planned at Bubba's Barbecue, here in Charlotte. After swapping a few war stories I got the opportunity to chat with his wife and daughters. We talked a little about gardening and I suggested she check out some site called Dave's Garden.
When the ladies got up to go shopping, we knew we would be hanging around a while, so turned to the geek talk. NoDough shared the horrid details of having to work in a Windows environment, and it gets worse. He'll be bound and gagged and dragged to Redmond in August. I know that even the non-religious among us will be praying hard for his safe return. His only consolation is that he gets to use GNU/Linux at home.
We nearly started a couple of grease fires as NoDough got my gears spinning at various points in our conversation. I believe it was something to do with the notion that Microsoft's anti-GNU/Linux advertising is the best advertising GNU/Linux can get. And it's paid for by Microsoft! The fact that GNU/Linux is seeing double-digit growth without a huge advertising campaign is proof positive that a big marketing campaign is not as important as some might think. Don't you just love the smell of napalm in the morning?
NoDough and I threw a good bar room brawl when it came to whether or not libre software is the only true way. A waitress, two cooks and a few piglets were injured in the melee. O.k., well, would you believe me if I told you that he said what he thinks and I said what I think (in true LXer fashion)? Most people know darned well what I think. And since NoDough is considering telling us what he thinks, I'll leave that to him. I know. I'm such a spoil sport.
All in all, it was a pretty good time. We discussed databases, programming and the general state of the community. Everyone who didn't make it missed the best part - NoDough and me chasing the greased pig. Here we are with the captive swine below: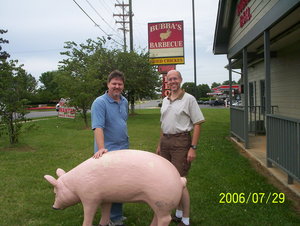 (Click to view larger image, assuming you want to download a 400K file.)
Note: Thanks to grouch for his graphics manipulation lesson.
| Subject | Topic Starter | Replies | Views | Last Post |
| --- | --- | --- | --- | --- |
| Larger image? | dinotrac | 11 | 1,506 | Jul 31, 2006 5:15 AM |
You cannot post until you login.