InformationWeek's Cover Story: Open Source Goes Corporate
Posted by tadelste on Sep 27, 2005 11:25 AM
Lxer; By Tom Adelstein
With a big penguin dressed in a power suite and tie, pocketing a Blackberry and holding a cell phone to his ear, InformationWeek (Sept. 26, 2005) writes "Hey, Yahoo, Disney's on the other line. Call you back." And below that, the lead says, "Open-source software, led by Linux, is barreling into big business. P. 38"

Not bad for the print friendly Microsoft publication.
Each week I receive my copy of InformationWeek and muddle through the articles about Microsoft this and Microsoft that. But today, I had the great pleasure of seeing a cover story exalting Linux and open-source. I couldn't find the materials on the Web, so for now, we'll just review Infoweek's print edition.
Larry Greenemeier, did an outstanding job writing about Linux and open-source. He profiled ten large companies using Linux. They included ABN Marco Bank NV, Cedent Corp., Continental Airlines, E-Trade Financial Corp, Fidelity Investments, Nielsen Media Research, Sabre Holdings Corp., UPS Inc., The Walt Disney Company and Yahoo Inc.
Larry starts the article by writing:
One line of code at a time, application by application, web server by web server, the data centers of a growing number of major companies are taking on a new personality, one that smells of the ocean and waddles when it walks.




Shortly after that, he demonstrates a dry-sided sense of humor with this:


If you missed the announcement of this industry-changing development, that's because it never went out. The deployment of open-source software is happening a project at a time, and many of them are never publicly discussed.
So, Larry and team when out to ten big companies and found out for themselves. They came back with an impressive story, well worth the read.
In a way, InformationWeek made the announcement that never went out, by putting that Penguin on its cover along with a street sign that looks like Wall and Broad. Thanks guys!
You cannot post until you login.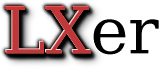 Login