Ronin: Logged Off (9 July 1943 - 27 May 2007) - Celebrating the Life of Jim Farnsworth
LXer Feature: 30-May-2007
Jim Farnsworth, known to many as "jimf" or "Ronin", logged off the IRC channel, #life, Sunday morning in a hospital in Kenosha, Wisconsin. As an active member of the LXer community, we'd like to help our readers celebrate Jim's impact on all of us.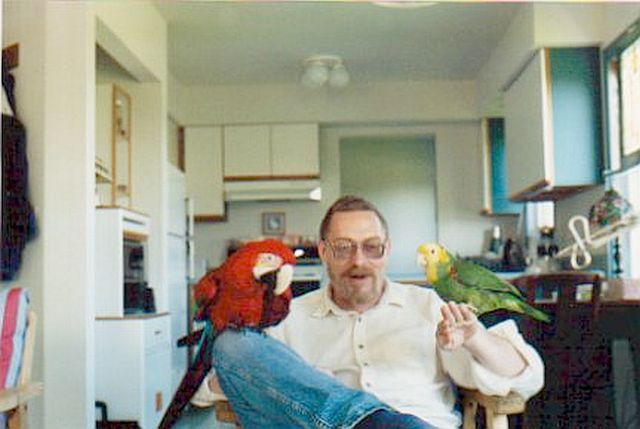 It's funny. I've known Jim Farnsworth for a year and a half; yet I never met the guy in person. I never knew what he looked like, what his favorite food was, or much else about him. Yet, after talking with his best friend of forty years, Kent Peterson, I realize I knew the most important thing about Jim - the kind of man he was.
Jim went to the hospital about two weeks ago, suffering from pneumonia. He initially seemed to improve, but wound up back in the hospital in a fight for his life. We all know now the pneumonia won. Jim was about 64 years old. He will be cremated in Kenosha, and Kent Peterson will meet with others at Jim's favorite pizza joint for some good pizza and one last argument about GNU/Linux vs Windows.
Jim was raised in New York, spent time in Wisconsin and Florida, and a brief stint in the Windy City (Chicago), before eventually relocating back to Kenosha. He married and divorced. He is survived by his mother. His interests were as broad as the horizon. He studied Art at Kent State for a time, and enjoyed painting. He loved his birds. He had a guitar and a pair of Kendo swords - a favorite of his Japanese bosses at his former employer. He recently sold his motorcycle. He enjoyed woodworking, mechanics, and even restored some old guns. And I thought he spent all his time on #debcentral. I can just picture Jim now, walking Scott through restoring apt-get with one hand while painting a still life with the other, while his bird sits on his shoulder sqawking, "Linux beats Windows! Linux beats Windows!"
Jim was one of the people who first acknowledged my skills as a moderator here at LXer. He convinced Scott and me to try Debian Etch, and successfully converted both of us. Scott actually continued to hang out with Jim on #debcentral, learning to help people solve problems. Scott says Jim taught him as much about himself and life as he did about GNU/Linux. Meanwhile, I keep wondering just how many others Jim converted over to Debian and Mepis. In fact, Kent suggested Linux was probably Jim's real religion.
We do know that Jim failed to convert Kent, who remains a Windows user to the present day. I also know he pestered the heck out of Kent, trying to convince him to give up Windows. Although he may have failed to convert Kent to GNU/Linux, I think Kent is considering launching a GNU/Linux CD distribution business, using all the CDs Jim sent him. Yet, Kent shared something with me that reveals what kind of man Jim was - something I believe all of us here at LXer can identify with.
Jim literally gave Kent the shirt off his back. O.k., well, would you believe it was two shirts? Jim shrunk them accidentally, and they fit Kent. So Kent got the shirts. Maybe that isn't what you were expecting, but the fact is, Jim really was a helpful guy. He helped me. He helped Scott - I know all about Scott's adventures with Debian. He helped numerous people via IRC on #debcentral. You see, that's what is so important to know about Jim.
Jim might have been a pretty smart guy. But he also had a big heart. If you missed that, you missed Jim. I know many of you have a story about Jim you can share. We at LXer invite you to share some of those stories, posting in the thread Kent started - right here in the LXer forums. Kent is passing along the link so Jim's family and other friends can see how Jim touched our lives.
We, the editorial team of LXer - Linux News, offer our thoughts and prayers to Jim's family and friends - especially to his mother. We all miss him greatly. Thanks to Kent, who helped fill in so many blanks for the rest of us. Thanks Jim, for your positive influence.
This topic does not have any threads posted yet!
You cannot post until you login.