LinuxWorld 2008: News, Notes and a Rant
Posted by Scott_Ruecker on Aug 6, 2008 12:44 PM
LXer Linux News; By Scott Ruecker (Phoenix, U.S.)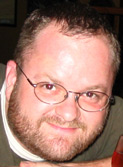 LXer Feature: 06-Aug-2008
More news, notes and a well deserved rant from LinuxWorld 08', the .org Pavillion booths, installfest and proof of my actual physical presence at the show. :-)
I got in early today because I wanted to help out with installing Linux onto computers for some local schools here in the bay area and to take a long slow walk through the .org pavillion, meet some people I had made arrangements to meet and also to get the scoop on things before the crowds hit. I was successful at installing Linux on two out of three machines, those old Dell machines are a bear to do anything with.
I got to talk to Sachin Bansal from Tetra a Linux and Open Source consulting firm based out of New Delhi India. I thought it very cool that they would make the effort to have a booth at LinuxWorld in San Francisco. I also got to meet Scott Dowdle of OpenVZ and montanalinux.org fame. I stopped by the Autotest booth, got to watch several computers being put through their paces and found out that Goole uses this to test the server farms.
I came across this car called "Junior" that is computer driven. I don't mean to be a stickler but the video showing the car driving around a controlled course and such being shown on the huge monitor to one side of the car, is being played in Windows Media Player of all things which means that the laptop the video is coming from is running Windows. I'm sorry, but if I was an exhibitor at a Linux Expo (say LinuxWorld for example) I would at least take the time to get the video about my product to be shown in something, anything other than WMP. I try not to be easily offended by such things but come on! I am at LinuxWorld, at least show me the video in Kaffeine, VLC, Xine or any other of a dozen video players that are accessible in Linux! Sorry for the rant.
OpenSuSE was there and showing off OpenSuSE 11.0 on a few machines. The Linux Foundation was giving away free t-shirts when singing up to join. The OPLC people that were at SCaLE in February were there. The Free Software Foundation was giving away stickers and selling t-shirts for fund raising. I got a chance to talk to Robert of The Open Source Census who told me about there software program that can scan your systems and show you what FOSS software is on them.
I stopped by the gOS booth and got to play with the newest version of gOS on a bunch of different tiny laptops. I got to see it run on one of those Everex mini laptops too. There were people from the University of California, Santa Cruz Extension campus there talking about the Linux Programming and Administration classes they now offer as a part of their Software Development Certificates program.
I got a chance to listen to a presentation on Lotus Symphony by an IBM representative at the Canonical booth area. Very cool stuff. It seems that IBM is really serious about it. Symphony is automatically included with Lotus Notes 8 and they are actively working on extensions and plugins for Symphony as well. I learned something I didn't know, Lotus Symphony is based on OpenOffice.org 1.0 and forked from there, interesting no? I also found out that IBM will be supporting Symphony under Ubuntu as of the end of August and that a Mac version is in the works for release sometime in October. That being said, Cononical was also pushing their support offerings and options for Ubuntu in a big way.
Oh, and to all you LXer's who had the gall to insinuate that I would say I attended and not actually show up at LinuxWorld, I give you irrefutable proof. LOL!! http://i55.photobucket.com/albums/g154/sharkscott/100_0190.j...
You cannot post until you login.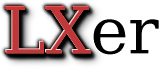 Login