Thankful for Freedom
Posted by tadelste on Nov 21, 2005 7:51 PM
LXer; By DC Parris
LXer Thanksgiving Day Feature

Linux News pauses to give thanks for libre software, the libre community, and most of all for freedoms that cannot be easily rescinded.
As we Americans pause to give thanks today for all that we have, we will surely express our gratitude for the opportunity to live in a country where we are free to worship God as we believe we should, free to pursue happiness and other freedoms. I hope we will remember to give thanks for libre software and for the libre community. I know we don't all agree as to whom we should be thanking, but we should be grateful nonetheless.
We should all be grateful that Richard Stallman had the wherewithal to determine that America, indeed the world, needed a different approach to software licensing. What about Perens and Raymond, and their efforts to win over big business to the libre community? Of course, there's also Linus, who chose to build on a foundation laid by others, and has become a giant himself. Then there are the guys and gals who have helped define programming languages and standards that all can use. Indeed, we have much to be thankful for.
We should be thankful for the debates over copyleft vs. non-copyleft, and for those who contribute so much to these debates. Where would we be if we did not question the value and morality of software licenses? Disagree though we surely do, these debates force us to think more thoroughly about our values. How would we appreciate our favorite distribution without the raging distro wars? Come to think about it, how would we know that Emacs is better than vi, without the debates over whether Emacs is really an operating system in its own right?
I would also like to express gratitude for the developers who work so hard, often late into the night, while their spouses go to bed fuming about having no one to snuggle up to yet again. Too many of us reap the rewards of their labors without ever giving anything back. I know you have to spend countless hours tracking down bugs, often to discover the real bug is the user. And there is always someone nagging you about usability while you're focusing on making sure the program runs like its supposed to.
What about the folks who live on the listservs, offering technical support for no more than a word of thanks. And all too often there's the user that gets frustrated because they don't understand enough to help you help them. Thanks for all the times you've answered the question without telling the users to RTFM when the answer was at the top of the FAQ page or the front of the manual. Thanks for those who hang in there with users over three and four days to finally resolve a difficult problem. We should even be grateful for the listserv admins.
Of course, we cannot forget those who write up the documentation, either for the projects we develop, or for the projects we use. Who toil tirelessly, typing up what can seem like the most mundane things, but without which many would be lost. Then there are the advocates, loyal users who have found in our projects the perfect program - or as near to it as we're likely to see. Nothing deters them as they promote our projects and rip all the rest.
Likewise, I am thankful for those who have drawn me into this community. I am thankful for the opportunities that I have discovered in using libre software, as well as for the opportunities to give back to the community that has given me so much. I am also grateful for the many friends I have made, locally and globally. I don't have a big fancy house, or a Mercedes in the driveway. I don't have a 72" plasma T.V. set, either. But I do have freedom. I am free to use the software on my computer as I see fit. I am free to share with my neighbor. This is my way of thanking all of you, who work so hard for our community. And I encourage you, if you use libre software - free software, open source software - whatever you call it, if you use it, thank a developer, a listserv or forum member who helped you out, a documentation writer. Give thanks and give it copiously.
| Subject | Topic Starter | Replies | Views | Last Post |
| --- | --- | --- | --- | --- |
| Well Stated | SamShazaam | 4 | 1,930 | Nov 24, 2005 5:40 PM |
You cannot post until you login.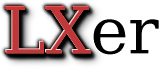 Login