Comment of the Day #2, November 29, 2005
Posted by tuxchick on Nov 29, 2005 9:46 AM
LXer.com; By Dinotrac
[Dinotrac did some independent research and analysis, instead of accepting the article's premise like a good little consumer. -tuxchick]
Here's the part that's really getting their goat:
Year to Year growth in ULW share:
Windows: 5.0%
Linux: 23.7%
And then, when you consider the great unreported "market", Linux uptake is huge and growing faster by far than Windows servers.
The bottom line: A Microsoft monopoly in the server room is a pipe dream.
You cannot post until you login.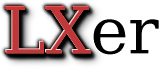 Login