Getting Cheeky At the Ohio LinuxFest
LXer Feature: 5-Oct-2006
We finally got around to getting a few photos from the 2006 Ohio LinuxFest on-line. Enjoy!
I kept my promise to Dino to pinch Paul's cheek, saw live penguins, and even ate lunch with Chris DiBona. Warning, some of the photos are pretty dark. I have a cheap camera, and am not a great photo editor. Next time I need a better camera and more photos!
Note: You can click the photos to enlarge, though you may want to middle-click in Firefox, and open each image in a new tab.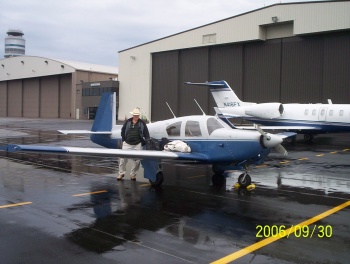 LXer publisher, Bob Whitinger, with his 1962 Mooney M20C. Bob flew from Tennessee to North Carolina to pick up Don.
LXer publisher, Bob Whitinger, with his 1962 Mooney M20C. Once Bob Levelled off, he let Don have the controls for a few minutes. Funny, I can't find that shot of Bob kissing the ground afterwards!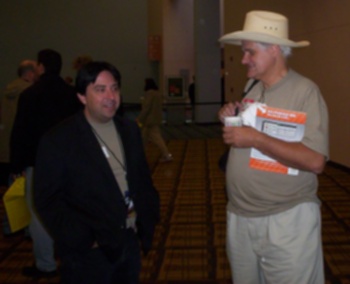 Bob Whitinger with Paul Ferris. The two had previously met in 1998 at a Linux conference in Raleigh.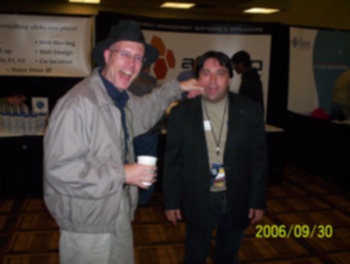 Don kept his promise to LXer reader and long-time friend of Paul Ferris, Dinotrac, giving Paul a good pinch on the cheek. Now that's cheeky! To top it all off, the photo was taken by none other than John "maddog" Hall.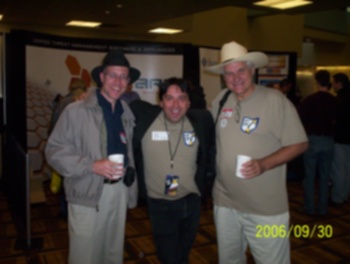 Bob and Don with Paul. Is that "The Boys are Back in Town" I hear playing in the background?
The entrance to the LinuxFest. Stop and check in at the registration table. If you had an all-conference pass, you got lunch and a t-shirt, too. I've got to admit, I really like my t-shirt!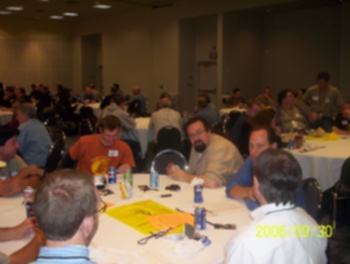 Paul introduced Bob and Don to Google's Chris DiBona over lunch. I understand someone at our table landed (or may soon land) a job as a result of meeting Chris. Even if you don't land your dream job, though, there are still lots of cool/smart people you can meet at the Ohio LinuxFest.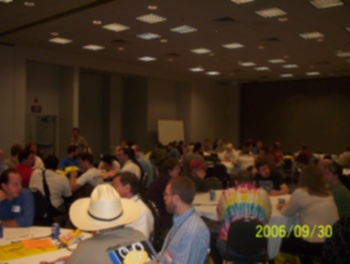 Like all good penguins, we migrated from the 'ice shelf' to the feeding grounds for some chow. Ironically, we had no fish. Well, the sandwiches were pretty darned good, all the same.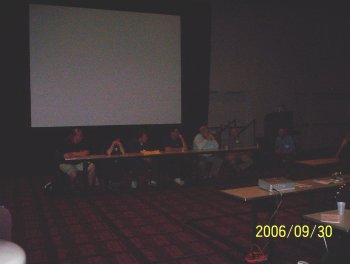 Dan DeSloover led a panel discussion about User Group administration. It was a very educational discussion for those who wrestle with finding the right topics, meeting times and locations, and mix of newbies and old hands.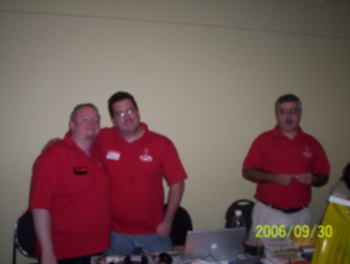 Meet three of the hosts from the Linux Link Tech Show. I've known Linc Fessenden for some time now. At the Ohio LinuxFest, we got to meet in person for the first time. I also met Dan, Pat (a.k.a., "Hackmeister"), and Allen. Pictured here are Linc, Dan and Pat.
The Columbus Zoo brought us a couple of surprise guests. This was the best shot I could get of the penguins. We got a nice lecture on the African "jack-ass" penguins, and the cute little couple even brayed for us. Yes, they do sound a bit like a donkey. Sorry guys, the female one might be cute, but she is spoken for!
You cannot post until you login.