SCaLE 5x: Day 2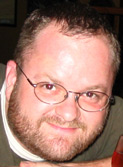 LXer Feature: 11-Feb-2007
Here is a review of some the events and people I talked too on the second day of SCaLE 5x in Los Angeles.
Day two of the biggest SCaLE ever was as fun and informative as the first day. I have to say that the all volunteer staff have really put on a Class-A event. I am not sure how they did it but they have done a fantastic job. The whole thing went off without a hitch. Here are some highlights from the seminars I attended and people I spoke with..
Eric Dahl of Zenoss discussed infrastructure management with Open Source tools. He gave a quick overview of where Open Source tools are in regards to the overall IT market. He made a good point that most of the infrastructure tools on the market are expensive and mostly under used. Most businesses never use their management tools to their fullest. On average they use less than 50% of the modules included with the software.
Dennis Rex of Symantec gave a talk called "Wireless Networking for beginners". I found it very informative because I have to admit that I do not know much about wireless networking as I would like. He really geared it to the end user and the way he presented his information made it easy to follow.
I talked with Art of ReactOS and apparently I have been living under a rock because I had never heard of an Open Source implementation of the Windows API. It had never occurred to me that you could create a Windows "clone" that is Open Source. If you get a chance to check out their website do. It looks like windows, but its not. You gotta love that.
I stopped by the Linux-Chix booth and spoke with Sharon who was very accommodating with her time. Linux-Chix is an international organization for Women in Open Source. In General there are about 20% women involved in IT but that number drops to roughly 1.5% in Open Source. Recently there have been initiatives started by many Open Source organizations such as Apache, KDE, Fedora, Debian and Ubuntu to create a place where Women can come to get information and contribute to the Open Source movement. I think it is long overdue. 1.5%?, it should be 50% as far as I'm concerned. There is no reason why Women should not be as involved in Open Source as Men. Keep an eye out for my interview with Sharon on LXer.
I spoke to Mark of Verio and Suneel of IBM about their respective virtualization initiatives. Mark told me about how their product is popular with developers because they can customize the daylights out of it and/or re-sell it and host for others as well. Suneel told be about how IBM's virtualization software can run on all of their mainframes and multiple processor architectures. He told me that the advantage of running it off of a Mainframe is that you can use the hardware to its fullest potential by design, "there is no whitespace on performance end".
Edgar from Dell and I talked about how they are contributing back to the community (they were a Gold Sponsor of SCaLE) and really starting to get the word out about their Linux offerings. Dell has been selling servers with Linux pre-installed for some time and they have a Linux community site and full time Linux Developers as well. I hope to interview someone from Dell in the near future.
Brad with Gnome showed me some of the new cool visual effects that are in version 2.16 and what is coming down the pipe for 2.17, I am such a sucker for spinning cubes! I stopped by the Unix Users Association of Southern California booth and talked to Herschel the "Unix Rabbi", what a great guy! I met Joe "Zonker" Brockmeier from Linux.com along the way and we compared notes on the Expo and talked a lot of shop.
I spoke with Wilson of Novell and we talked about the deal with Microsoft. They know they have taken "a fair amount of heat" for it but the popularity of OpenSuSE has not gone down, but up. They are right, OpenSuSE's ranking on Distrowatch.com has not faltered at all. He told me that the average number of downloads has actually gone up. The main reason that they wanted to have the deal with Microsoft in place was to allow them to sell their services and run virtualized Windows environments with support options for those customers. It makes it easier for them to sell their services when the customers know that they are going to be able to get support, not only from Novell but from Microsoft as well. I made arrangements to get an interview with a "higher-up" at Novell.
Well that's it for now, my time here in L.A. is done. I have to get on a plane back to The Valley of the Sun. I will be posting pictures I took very soon and with interviews with executives from Dell and Novell in the near future and my plans to attend the Red Hat Summit in San Diego in May in the mix, stay tuned. I really do love my job.
Cheers!
» Read more about: Story Type: LXer Features, Reviews; Groups: Community, Debian, Fedora, Gentoo, GNOME, GNU, IBM, KDE, Linspire, Linux, LXer, Mandriva, Novell, Red Hat, Sun, SUSE, TrollTech, Ubuntu

« Return to the newswire homepage
| Subject | Topic Starter | Replies | Views | Last Post |
| --- | --- | --- | --- | --- |
| SCALE Rocks! | beirwin | 2 | 2,662 | Feb 12, 2007 10:07 PM |
You cannot post until you login.