LXer Features
Dispelling the myths of Gentoo Linux, an honest review
By Dave Whitinger - Mar 22, 2004

This long-term Red Hat Linux user has given an honest look at Gentoo, and has concluded that the stereotypes surrounding this distribution are false. After all these years, I have finally found my new distribution: Gentoo Linux.

A plea for relief from Microsoft's escalating anti-competitive tactics.
By David Mohring
- Mar 12, 2004
An open letter to antitrust, competition, consumer and trade practice monitoring agency officials worldwide.

GNU-Darwin founder plays politics with free software
By Dave Whitinger
- Mar 12, 2004
In a recent journal entry at Advogato, Michael Love, the founder and lead developer of GNU-Darwin has posted a reminder of GNU-Darwin's disapproval of U.S. policy. His non-mainstraim views are an example of the politcal extremism we've become desensitized to over the years. Here is the question: is it a good idea to use a position as the head of popular free software projects to publish political propaganda?

Letter of Support to AutoZone
By Eric S. Raymond
- Mar 03, 2004
Eric S. Raymond has written an open letter to Autozone. "We'll be with you -- and that 'we' includes a lot of expertise in the technical, legal, and historical issues bound up in SCO's lawsuit. If there is any assistance that I personally or the Open Source Initiative can reasonably provide, please do not hesitate to ask."

Denying SCO's right to redistribute GPL'ed code opens questions of Open Source compliance
By Dave Whitinger
- Feb 27, 2004
Somebody had to do it, and why not Nmap? By restricting SCO was redistributing GPL'ed code, Fyodor has taken a step applauded by many (your editor included), but also raised the question of Open Source(tm) complaince, and started what could become an interesting story to watch over the coming months.

Review of Fedora Core 2 test 1
By Dave Whitinger
- Feb 17, 2004
Normally I don't review very early test releases of software, but the opportunity to test drive Fedora's first distribution based on the 2.6 kernel was too irresistible to pass up.

The Tide Has Turned in the Battle of the War
By Dave Whitinger
- Feb 11, 2004
In 1999, I editorialized that the browser was the battleground that would win or lose us the whole thing. 4 years later, it is time to update the article with a slightly more optimistic view.

Firefox 0.8 is the release that won me over
By Dave Whitinger
- Feb 09, 2004
Has Mozilla Firefox finally broken the speed and stability barriers in order to bring about a browser change to this long-time Galeon user? After all this time, Firefox finally won me over and caused me to change my regular web browser.

Sourceforge.net introduces a paid subscription system
By Dave Whitinger
- Feb 04, 2004
It was bound to happen, Sourceforge is now accepting subscriptions for access to premium services.

Software Review: mod_gzip trims bandwidth utilization by 77%
By Dave Whitinger
- Jan 19, 2004
Let it not be said that I didn't tell you about the neatest apache module since the introduction of php: mod_gzip.

Software Review: BDiff
By Dave Whitinger
- Jan 19, 2004
bdiff is a "binary diff" and, rather than going line by line, it goes byte by byte.

Introducing LXer
By Dave Whitinger
- Jan 01, 2004
Welcome to LXer.

« Previous ( 1 ... 38 39 40 41 42 43 )
852 entries found: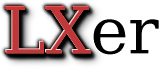 Login