LXer Features
The Tide Has Turned in the Battle of the War
By Dave Whitinger - Feb 11, 2004

In 1999, I editorialized that the browser was the battleground that would win or lose us the whole thing. 4 years later, it is time to update the article with a slightly more optimistic view.

Firefox 0.8 is the release that won me over
By Dave Whitinger
- Feb 09, 2004
Has Mozilla Firefox finally broken the speed and stability barriers in order to bring about a browser change to this long-time Galeon user? After all this time, Firefox finally won me over and caused me to change my regular web browser.

Sourceforge.net introduces a paid subscription system
By Dave Whitinger
- Feb 04, 2004
It was bound to happen, Sourceforge is now accepting subscriptions for access to premium services.

Software Review: mod_gzip trims bandwidth utilization by 77%
By Dave Whitinger
- Jan 19, 2004
Let it not be said that I didn't tell you about the neatest apache module since the introduction of php: mod_gzip.

Software Review: BDiff
By Dave Whitinger
- Jan 19, 2004
bdiff is a "binary diff" and, rather than going line by line, it goes byte by byte.

Introducing LXer
By Dave Whitinger
- Jan 01, 2004
Welcome to LXer.

« Previous ( 1 ... 38 39 40 41 42 43 )
846 entries found: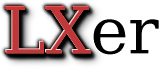 Login