LXer Features
FeriCyde Chat: The Linux Virus Threat List for 2005
By Paul (FeriCyde) Ferris - Feb 08, 2005

It's hard to find a comprehensive source of pending Linux virus threats these days. Ominous warnings can be found in the press that as Linux and other Free Software projects get more popular, the threat of infection will be on the rise. Still, deep research on the subject yields very little in the way of credible results. You can turn up a lot of talk about anti-virus software and vendors selling solutions for Linux. Still, nothing could be found that really summed up the current and coming threat of viruses for someone using desktop or server Linux in a network setting.

Windows security is a 'myth', claims Linux Community Member
By Paul (FeriCyde) Ferris
- Jan 31, 2005
A senior Linux community member, speaking exclusively to LXer.com, has dismissed Windows' reputation as a secure platform as a "myth", claiming that the proprietary development process, coupled with a lack of corporate accountability creates fundamental security problems.

Penguin Counter Penguin: You Say Tomato, I say "Desktop"!
By Dean Pannell and Paul Ferris
- Jan 24, 2005
Today dawns a new era of discussion. In the past, Paul Ferris and Dean Pannell (FeriCyde and DinoTrac) sparred impromptu in the talkbacks of many a respectable (and otherwise :) website. Today, for the first time, they make it official. The format is called Penguin Counter Penguin, and the subject random. Today the debate is on the slighter side of the Linux Desktop. Is the Linux desktop really ready for prime-time? Who knows for sure, but you can bet that Paul and Dean have their flamethrowers tuned for the finer points of the debate!

Free Software; Closest to Freedom
By Paul (FeriCyde) Ferris
- Jan 14, 2005
This is a response to Subhasish Ghosh's editorial entitled "Free Software in Reality Isn't Free". If I come across as kind of harsh here, I apologize. I know Solaris and and SunONE rather well, so this is familiar territory. Some of the concepts in Ghosh's editorial were quite baffling to me, so this editorial in fact raises more questions than it may answer. Such is discourse in the digital age :)
-- FeriCyde

Are Vendor Certifications Worth It?
By Keith Winston
- Jan 12, 2005
The Information Technology (I.T.) profession is overrun with technical certifications, many of dubious value. Questions often arise about the value of a certification. I argue that vendor-neutral certifications are better value propositions in the same way that vendor-neutral standards are. A vendor-neutral certification is likely to remain relevant longer, have a longer lifetime prior to expiration, and apply more broadly. Whether you agree or disagree, there are fewer vendor-neutral certifications from which to choose.

Paul Ferris: Pundit for a Day, 2005
By Paul (FeriCyde) Ferris
- Jan 02, 2005
It's that time of year, folks. Industry pundits are out shooting off predictions like so many mortars and who knows where they will land? Paul Ferris can predict with the best of them, but here's some advice: Keep hands and Feet away...

Paul Ferris: The GNU/Linux desktop-adoption drive of 2005
By Paul (FeriCyde) Ferris
- Dec 22, 2004
Paul Ferris speculates that the time is ripe for a couple of heavy-hitting retail vendors to embrace GNU/Linux in the sales arena. This FeriCyde Chat continues last weeks rant, suggesting that there's cash on the table for the first vendor that matches todays security opportunity with a Linux desktop alternative.

Open Letter to Brin & Page
By Sam Hiser
- Dec 14, 2004
I urge you to consider leveraging the free resources available and trust you already have the motivation, the people and resources under your employ to create something durable and important for people all over the world. One way to move ahead is by scanning the works of the libraries of Stanford, Oxford, Harvard, the University of Michigan, the New York Public Library and others into the OASIS "OpenDocument" File Format of the OpenOffice desktop office suite. This will guarantee public access to the libraries' contents as well as indirectly promote Google's interests in search.

Sun versus Linux: The Real Story
By Tom Adelstein
- Nov 22, 2004
Does getting rid of UNIX favor Linux? Or Does it play right into Microsoft's hands?

Novell Linux Desktop reviewed: A New Linux Desktop for Enterprise Customers
By Tom Adelstein
- Nov 15, 2004
Tom has reviewed the Novell Linux Desktop, a new desktop for enterprise customers.

Desktop Linux: The Final Hurdles
By Tom Adelstein
- Nov 09, 2004
Desktop Linux is almost soup. We only have a few items left on the short list. Will we do it? If history is an indicator, the answer is yes.

Putting the Linux Desktop Closer to the User
By Tom Adelstein
- Oct 19, 2004
Using Innovation to Introduce the Desktop Challenger.

The Real Sun versus Red Hat Story
By Tom Adelstein
- Oct 08, 2004
Putting bias aside, interested in a frank discussion? Tom Adelstein knows a lot about Sun and sets out here to give the whole story behind Sun and Red Hat's disagreements.

Is the MSN search engine being used in the battle to kill Linux?
By Tom Adelstein
- Sep 29, 2004
Author's experience with MSN bot and google research says MSN bot is bombarding open source sites. I kept wondering why my best read articles sunk lower on google and now I believe I know.

How to Build a Low Cost Linux Desktop Computer
By Tom Adelstein
- Aug 11, 2004
You can build your own system and save a bundle of money while getting a top notch, high quality PC. By using Linux, you can lower you costs even further by not having to purchase proprietary software which would cost you more than your computer.

Halloween XI -- Get the FUD
By Eric S. Raymond
- Jun 22, 2004
In the newest Halloween Document, I analyze Microsoft's "Get The Facts" road show. The anti-Linux arguments they are using now -- and, even more, the arguments they're *not* using -- reveal how desperate Microsoft is getting. I explain why I think we need to focus more on government adoptions, and predict serious ugliness during the next year.

Linux Today founder calls for a boycott of Linux Today
By Dave Whitinger
- Jun 04, 2004
I founded and managed Linux Today in 1998, bringing it up from nothing into the most powerful and large Linux news website in the world, in less than a year. I am now calling on the Linux community to boycott my creation until its current owners stop accepting money from Microsoft to publish blatantly anti-Linux/pro-Microsoft ads.

"Is Linux more secure than Windows?" - Debian, Mandrakesoft, Red Hat and SUSE answer.
By Gael Duval
- Apr 06, 2004
GNU/Linux vendors Debian, Mandrake, Red Hat, and SUSE have joined together to give a common statement about the Forrester report entitled "Is Linux more Secure than Windows?".

Java Desktop crashes during Sun's CEO keynote at CTIA
By Dave Whitinger
- Mar 22, 2004
Less than an hour ago, during Scott McNealy's keynote speech at CTIA, his machine that was running Java Desktop froze up in view of the entire room.

Dispelling the myths of Gentoo Linux, an honest review
By Dave Whitinger
- Mar 22, 2004
This long-term Red Hat Linux user has given an honest look at Gentoo, and has concluded that the stereotypes surrounding this distribution are false. After all these years, I have finally found my new distribution: Gentoo Linux.

A plea for relief from Microsoft's escalating anti-competitive tactics.
By David Mohring
- Mar 12, 2004
An open letter to antitrust, competition, consumer and trade practice monitoring agency officials worldwide.

GNU-Darwin founder plays politics with free software
By Dave Whitinger
- Mar 12, 2004
In a recent journal entry at Advogato, Michael Love, the founder and lead developer of GNU-Darwin has posted a reminder of GNU-Darwin's disapproval of U.S. policy. His non-mainstraim views are an example of the politcal extremism we've become desensitized to over the years. Here is the question: is it a good idea to use a position as the head of popular free software projects to publish political propaganda?

Letter of Support to AutoZone
By Eric S. Raymond
- Mar 03, 2004
Eric S. Raymond has written an open letter to Autozone. "We'll be with you -- and that 'we' includes a lot of expertise in the technical, legal, and historical issues bound up in SCO's lawsuit. If there is any assistance that I personally or the Open Source Initiative can reasonably provide, please do not hesitate to ask."

Denying SCO's right to redistribute GPL'ed code opens questions of Open Source compliance
By Dave Whitinger
- Feb 27, 2004
Somebody had to do it, and why not Nmap? By restricting SCO was redistributing GPL'ed code, Fyodor has taken a step applauded by many (your editor included), but also raised the question of Open Source(tm) complaince, and started what could become an interesting story to watch over the coming months.

Review of Fedora Core 2 test 1
By Dave Whitinger
- Feb 17, 2004
Normally I don't review very early test releases of software, but the opportunity to test drive Fedora's first distribution based on the 2.6 kernel was too irresistible to pass up.

The Tide Has Turned in the Battle of the War
By Dave Whitinger
- Feb 11, 2004
In 1999, I editorialized that the browser was the battleground that would win or lose us the whole thing. 4 years later, it is time to update the article with a slightly more optimistic view.

Firefox 0.8 is the release that won me over
By Dave Whitinger
- Feb 09, 2004
Has Mozilla Firefox finally broken the speed and stability barriers in order to bring about a browser change to this long-time Galeon user? After all this time, Firefox finally won me over and caused me to change my regular web browser.

Sourceforge.net introduces a paid subscription system
By Dave Whitinger
- Feb 04, 2004
It was bound to happen, Sourceforge is now accepting subscriptions for access to premium services.

Software Review: mod_gzip trims bandwidth utilization by 77%
By Dave Whitinger
- Jan 19, 2004
Let it not be said that I didn't tell you about the neatest apache module since the introduction of php: mod_gzip.

Software Review: BDiff
By Dave Whitinger
- Jan 19, 2004
bdiff is a "binary diff" and, rather than going line by line, it goes byte by byte.

Introducing LXer
By Dave Whitinger
- Jan 01, 2004
Welcome to LXer.

« Previous ( 1 ... 37 38 39 40 41 42 ... 43 ) Next »
851 entries found: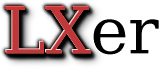 Login