The Tide Has Turned in the Battle of the War
Posted by dave on Feb 11, 2004 5:55 AM
LXer; By Dave Whitinger
In 1999, I editorialized that the browser was the battleground that would win or lose us the whole thing. 4 years later, it is time to update the article with a slightly more optimistic view.
On November 5th, 1999 I wrote an essay to the community titled The Battle That Could Lose Us The War. In that essay I described my mounting frustration over the losing battle we were fighting in the area of web browsers. My conclusion was that if Microsoft was able to dominate the web on the desktop, it would be a short matter of time before they could extend and dominate the web on the server. I knew that Mozilla was our last and only hope for winning this.
In the years since then, despite enormous and sundry pressures against them, the Mozilla project has moved forward at a remarkable pace. They somehow rebounded from each major setback even stronger. Milestones were passed, 1.0 came and went, and the layout engine Gecko started to pick up speed and became used in a variety of applications, including Galeon and Netscape 6 and 7. When AOL finally turned the developers loose, they responded by apparantly doubling their efforts and moving even faster and smarter. Whether you like Mozilla or not, their persistence is an inspiration to the entire Free Software community.


So much progress has been made, in fact, that today, more than four years since my gloomy outlook was keyed, with unspeakable pleasure I am now in a position to report that this tide has finally turned. The Gecko layout engine seems unbreakable and is reportedly more standards compliant than Internet Explorer. The Firefox browser is fast and stable, and supports the plugins out there that the users want and need, and, for the first time in several years, my wife is actually excited about her Linux desktop again. For the first time since Internet Explorer 3.0 was released, I am seeing people switching browsers in droves.
Furthermore, we now have the same browser as the Windows users. By making sure that my web pages look good in Firefox, I can be sure that it will look similarly in Firefox for Windows. Speaking of Windows, many of the Windows folks that I know, including those computer newbies that still think the "internet" is in their "Internet Explorer icon", have already made the switch to Firefox. Joe-User is excited about Firefox, and this means fast adoption of this browser in all computing circles.
Not only is Mozilla/Firefox a superior product, but it is built in the best traditions of quality software: simple, extensible and free (libre). The extensions support in Firefox is simply genius and will continue to create an entire industry of software products to enhance and customize the browser for individuals.
At the risk of fostering an attitude of complacency, I must say that the Mozilla project has breathed new life into the web, and as a side-effect, into the Linux desktop. The war is still far from over, but the tide of this crucial battle has most definitely turned. Things have never looked brighter for Linux (as a server, and a desktop), nor for the computing community as a whole, as a direct result of the tireless and outstanding work of the Mozilla developers. Well met!
You cannot post until you login.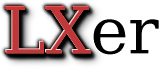 Login