OK - So what do I tell my Mac friend?
Posted by dinotrac on May 10, 2012 2:34 PM
LXer Linux News; By Dean Pannell (aka dinotrac)
LXer Feature: 10-May-2012

So...I'm at a Ruby hack night when a friend tells me that his older Mac Book slowed to a crawl with the new Lion OS, so...he's toying with the idea of putting on Linux. But...
If you're looking for a Mac, Ruby gatherings are good places to go. I am always a clear minority when I show up to Ruby events with my little Mint netbook. At least it's not Windows, which would be much, much, worse.

So, last night the guy who's showing my some pry magic tells me he's been trying to put Linux on an older Macbook that became a MacMolasses when he upgraded OS X to Lion. We talked a bit about the distros I use (mythbuntu, Mint, and Debian Mint). He asked if the assorted status lights on his Macbook would work on Linux (I have no idea), then he asked something that completely flummoxed me:

What are some cool Linux-y things I can do?

I couldn't begin to tell him.This guy works on the Mac, and he's completely comfortable going down to the OS and doing Unix commands. The Mac is a lovely machine. If the money doesn't bother you, or the Cupertino Cartel, it's a very cool place to be.

In my defense, I've nearly never used anything but linux over the last 13-14 years. To me, computer and linux are synonymous in the same way that Windows users seem unable to understand that computing doesn't require Microsoft. I can't think of what might be special or interesting to a Mac guy.

So -- any ideas?
You cannot post until you login.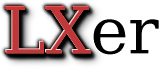 Login